WELCOME TO GEORGIA TIRE RECOVERY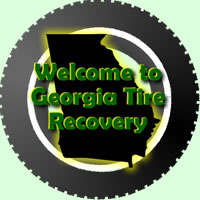 Georgia Tire Recovery has been solving waste tire problems throughout Georgia and Eastern Alabama since 1990.
We specialize in the clean up of illegal tire dumps, ensuring environmentally safe tire recycling through Georgia and Eastern Alabama. For more information on this service, please visit our Tire Cleanup page.
Georgia Tire Recovery is fully-licensed and permitted. We comply with all solid waste management regulations and safety guidelines. All E.P.D. paperwork (manifests) are completed and mailed within ten days. Your tires are processed in a manner that conserves natural resources and is safe for our environment.
When you become a partner with Georgia Tire Recovery, you become part of the solution to your waste tire problems. All tires we handle will be shredded and recycled as a tire derived energy source or as raw materials for other products.
Common Keywords associated with Georgia Tire Recovery's services may include tire recycling, tire disposal, tire recovery, waste tires, scrap tires, old tires, illegal tires, junk tires, tire dump, tire fires, tire clean-up, tire salvage, tire processing, tire sites, automotive tires, tire abatement, tire chips, tire derived fuel, tdf, tire dealers, rubber recycling, recycled rubber, tire shredder, tire clean-up sites.
We want to be your partner in solving our waste tire problems.